A History of Dean College Leaders
Since 1865, Dean has been led by a strong succession of leaders that have stewarded the growth of the institution from our early days as Dean Academy and Dean Junior College to the Dean College we are today. Take a look back at the leadership that got Dean where we are today.
In the Beginning
What we now know as Dean College began in 1865 as Dean Academy, all thanks to generous benefactor and founder, Dr. Oliver Dean. Born in Franklin on February 18, 1783, Dean was known for his Universalist faith and his loyalty to the Town of Franklin. He practiced medicine in Boston and Medway, before retiring from the profession and becoming superintendent of Medway Cotton Manufactory and later Amoskeag Manufacturing Company. Dean returned to Franklin in 1851, where he lived until his death on December 5, 1871. An enthusiastic supporter of Dean Academy, Dean gifted nine acres of land and $125,000 to build the school.
The first principal of Dean Academy was Timothy G. Senter, who took the helm in the fall of 1866. Also a Goddard Professor of Mental and Moral Science, a strong disciplinarian and a sound administrator, Senter led Dean until June 1871, when he was forced to retire due to poor health. What is now the Dean College Children's Center was originally known as Senter House.
Ceremony Programs
Click on the images below to view historical documents relating to the founding of Dean Academy.





The Awpie Peirce Era
After Senter retired, Dean Academy was led by the Rev. J.R. Weston (1872-1878), Miss H.M. Parkhurst (1878-1880, during which the Academy became a "young ladies" institution), and Lester L. Burrington (1879-1896). In 1897, the "Peirce Era" began with the appointment of Arthur W. Peirce as principal and would become one of the most significant periods of time in Dean's history.
Peirce came to Dean in 1897, and set himself about becoming a strong public voice in the community, as would his future wife, Miss Lydia Ray. He gave 38 years of service to Dean Academy, during which he grew student enrollment dramatically and oversaw the construction of many new buildings, including Ray Science Building, the Gymnasium and Memorial Hall. He and his wife were so dedicated to Dean that they were only away from campus for more than a month twice in his entire tenure. His omnipresence on campus, his warm nature, and his initials—A. W. P.—all lent to the creation of Peirce's nickname, "Awpie", which has come to symbolize not only the beloved headmaster himself, but also the close proximity of faculty, staff, and students at Dean that allowed for an intimacy that, especially for the boarding students, created a family- and home-like atmosphere. The beloved "Awpie" died suddenly of a heart attack on December 20, 1934 in his office.
Historical Documents
Click on the images below to view historical documents from the Awpie Peirce era.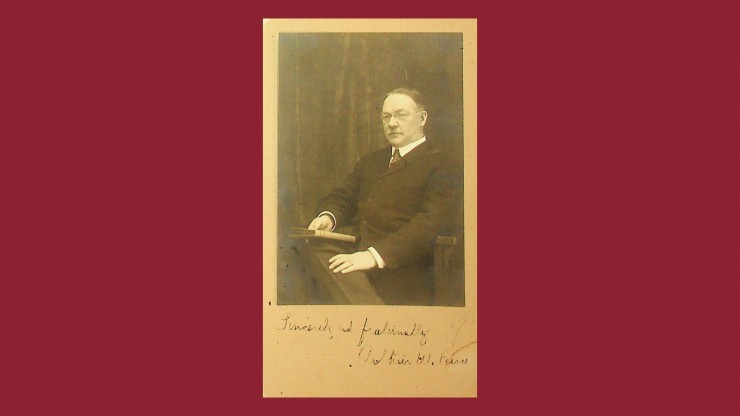 From Dean Academy to Dean Junior College
To succeed Peirce, the trustees appointed Earle Sessions Wallace '05. Affectionally known as "Wally" on campus, Wallace had been a student at Dean during Peirce's early years, graduating in 1905 after four years of academic study, during which he also established himself as a top football player. Just like Peirce, "Wally" was known for being omnipresent on campus and making the daily walk from Dean Hall to Peirce House where he resided with his wife, Marian, and their daughter, Janet – who not only attended Dean but was also salutatorian of her graduating class.
Wallace came to Dean with progressive ideas and an enthusiasm for a "junior college" institution. This concept was not accepted readily in New England, because it constituted a drastic change from the conventions of the four-year college. Wallace persisted in his ideals and, almost single-handedly, obtained a charter from the Massachusetts Legislature in May 1941, authorizing the establishment of Dean Junior College. Headmaster Wallace then became President Wallace – the first of Dean Junior College.
In 1946, Wallace was succeeded by William Chadwick Garner as headmaster and president of both Dean Academy and Dean Junior College. After careful study, Garner recommended that Dean Academy be discontinued and emphasis be placed on Dean Junior College. A veteran of World War II, Garner took on the task of expanding the college as well as establishing rapport with new students, many of whom were similarly veterans. He also oversaw a comprehensive expansion of campus, completing the Pieri Gymnasium, Peirce Science Center, the E. Ross Anderson Library, the Garner Student Center, three residence halls and renovations of several other buildings to become housing, classrooms and office space. Garner departed Dean for Rhode Island in 1967, having transformed campus, raised five children with his wife Edith and completed a doctorate in education from Harvard.
Momentous Occasions
Click on the images below to view historical documents from momentous occasions for Dean Academy and Dean Junior College.



Becoming Dean College & The Rooney Years
After Garner retired, Dean Junior College was led by Donald E. Deyo (1968-1971), Richard E. Crockford (1972-1991), Dr. Frank B. Bruno (1991-1992), and John A. Dunn, Jr. (1992-1995). On February 9, 1994, the school officially changed its name to Dean College. And in July 1995, Dr. Paula M. Rooney was appointed the 13th president of Dean College.
A Massachusetts native, Rooney became the first woman to lead the institution since Parkhurst had been acting headmaster in the late 1870s. Rooney arrived on campus with her husband, Dr. Gerry Shaw, and their son Paul, only a few months old at the time. She immediately sprung into action to meet the many challenges Dean was facing at the time – small enrollment, aging infrastructure, low finances and an unclear future. Under Rooney's leadership, the growth of Dean College accelerated, beginning with the physical transformation of campus to modernize infrastructure and technology. She placed a strong focus on strengthening the academic curriculum and championed for the introduction of four-year baccalaureate degree programs, officially launching Dean's first bachelor's degree in Dance in 2000. Since then, Dean has grown as a four-year school, with more than 93% of students pursuing baccalaureate degrees. Rooney also spearheaded the growth of the Dean's athletic programs, establishing an exclusive academic partnership with Kraft Sports + Entertainment and becoming an active member of NCAA Division III for 16 athletic teams. She also not only stabilized the finances of the College, but grew the budget and endowment to ensure a strong future for Dean.
But perhaps what Rooney is best known for is the establishment of The Dean Difference, the student-centric philosophy that guides everything the College does. She placed students at the heart of every decision she made and action she took, and became the true embodiment of The Dean Difference herself. In 2022, Rooney stepped down as president after an incredible 27-year tenure, having transformed Dean College and securing a strong foundation for its future.








The 14th President
After Rooney stepped down in 2022, the Board of Trustees appointed Kenneth Elmore, J.D. as the 14th president of Dean College. Elmore, the former dean of students at Boston University, will focus on successfully implementing The Dean Difference through his commitment to public engagement and the pluralistic ideal.