School of the Arts Faculty and Staff
Our dedicated faculty and staff offer our students the knowledge and skills to thrive both in and out of the classroom.
Faculty and Staff
Below is a list of faculty and staff members at the School of the Arts. Click on the drop-down menu for more information.
Dean of the Joan Phelps Palladino School of Dance and the School of the Arts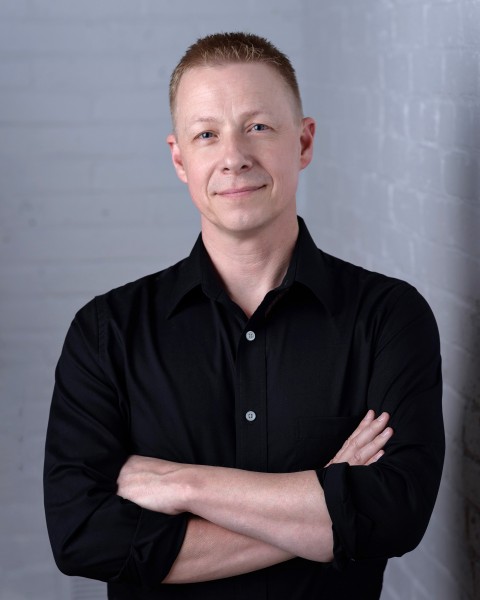 Marc M. Arentsen is the Dean of the Joan Phelps Palladino School of Dance and the School of the Arts. He is a master teacher, consultant, and artistic leader whose teaching expertise includes ballet technique, dance history, dance composition and choreography, arts administration, and artistic direction.
Passionate about the arts and people, he previously was the founding Chair of Dance at Belhaven University and the founding Artistic Director of Polarity Dance Theatre in Jackson, Mississippi. Marc earned his M.F.A. degree in Theatre Arts/Dance from The University of Arizona and received his B.F.A. degree in Ballet Performance from Friends University, prior to which he studied at conservatories in his home country of the Netherlands.  His teaching expertise includes ballet technique, dance composition/choreography and dance history, and he has appeared in, produced and collaborated on dance and theatre works in Asia, Europe, and North America.
Program Coordinator of Theatre, Assistant Professor of Theatre, Costume Designer-in-Residence
Daniel B. Kozar serves as Assistant Professor, Program Director of Theatre for the School of Arts, and Costume-Designer-in Residence for the college. Daniel has been involved in the capacities of either designer, director, producer or performer in over 180 theatre, film or television productions in the New England area, since 2001. This would include over 75 on the Dean College campus. He has served KCACTF, Region I, in the capacity of Co-Chair, and Vice Chair, for the area Design, Technology and Management. 
Program Coordinator of Arts and Entertainment Management, Assistant Professor
David joined the Dean College faculty in January 2019 as Associate Professor and Program Coordinator of Arts and Entertainment Management.  Prior to Dean College, David has worked and taught in the field of performing arts and theatre management for many years including Assistant Professor of Sports, Arts and Entertainment Management at Point Park University; Executive Director – Spruce Peak Performing Arts Center; Assistant Professor/Head-MFA Theatre Management at Florida State University; President/CEO – Luther F. Carson Four Rivers Performing Arts Center; Executive Director – The Mahaffey Theatre Foundation; and others.  He holds a BA in Theatre from Hope College and an MFA in Theatre Management/Arts Administration from University of Alabama/Alabama Shakespeare Festival.  David has served as a grant panelist for South Arts, State of Florida, State of Kentucky, State of Vermont, MidAtlantic Arts Foundation, PennPAT, State of Utah, and others.  Prior to his work as a theatre manager, presenter/programmer and educator, David was an AEA Stage Manager for 13 years.  
BA, Hope College, MFA, University of Alabama
Assistant Professor and Part-Time Faculty in Theatre
Ali Angelone holds a Master of Fine Arts degree in Movement and Musical Theatre Pedagogy from Virginia Commonwealth University. She has directed, choreographed and taught several courses and workshops throughout the country and is thrilled to be a part of the faculty at Dean College.
Associate Professor of Theatre and Dance, Technical Director
Jim Beauregard (Director/Fight Choreographer) is Associate Professor and Technical Director for The School of Arts and The School of Dance at Dean College, Franklin, MA.  Jim has served on the Executive Board for the Kennedy Center American College Theatre Festival and has also served as the Artistic Director for The Medieval Manor Theatre in Boston, Ma. Jim is entering his 23rd year at Dean College where he continues to create as a Director and choreographer, both on the boards and behind the scenes for Dean College and theatres throughout the region.
Adjunct Instructor in Performing Arts
Rebecca Campbell attained her BA in Theatre with a minor in Dance from Dean College and a MA in Theatre Studies from Montclair State University in New Jersey. Before returning to Dean to be an instructor, Rebecca was the Program Assistant for Peak Performances at The Alexander Kasser Theatre, a production house that premieres Global and American performing artists, working with renowned artists not limited to Robert Wilson, The Abbey Theatre of Ireland, Liz Gerring, Pat Graney and The Culberg Ballet of Sweden. Additionally, a strong advocate and researcher for the arts, Rebecca's research spans topics of Historical Examinations of Musical Theatre, Feminist Explorations of Global Theatre of the 20th Century, and "The Importance of Active Participation Through Play in Children's Theatre" which received the 2016 Outstanding Presentation Award at the Montclair Interdisciplinary Research Symposium.
Adjunct Professor of Music
José Delgado is an Adjunct Professor of Music for the School of the Arts at Dean College. Outside of his work as a classroom and private educator, José is also the founding Artistic Director, conductor and lyricist for the Força Choir as well as a freelance music director, pianist, vocalist and arranger. He holds an MFA degree in Conducting from Pennsylvania State University and a BA in Trumpet Performance from Eastern Nazarene College.
Adjunct Instructor and Voice Faculty
Amy Del Santo, Soprano with a BM from RIC and MM from SFSU in Classical Voice and Pedagogy, is a highly sought after vocal coach in the Southern New England Area. Amy has coached the roles of Elle Woods/Legally Blonde, Nina/In the Heights, Tracy/Hairspray, Mary Poppins and many more. Some of Amy's former students are performing on and off-Broadway and in National touring companies. Amy has been a member of Dean College's voice faculty for over a decade and performs as a recitalist of both classical and musical theater repertoire. 
Adjunct Instructor in Art
Lisa Granata holds Bachelor's of Fine Arts degree in General Fine Arts from the Maryland Institute College of Art. She has a Masters of Fine Arts degree in Painting from Cranbrook Academy of Art and a year's study in Florence Italy at Studio Arts Center International. Lisa Granata paints in acrylic and creates mixed media works of art which incorporate key themes from current social and political issues. 
Adjunct Instructor in Communications and Music
Ken Grout attended Drake University in Des Moines, Iowa, majoring in Music and Business and graduate school at Emerson College, where he studied Writing and Literature. After 20 years in the Information Technology world, Ken found his way to education. In addition to his time here at Dean, Ken teaches or has taught at Emerson College, Wheelock College, Urban College of Boston, Endicott College, and Wentworth Institute of Technology.  Ken wrote and performed the successful one-man show, "Thelma Ritter Got Balls," has written four professionally-produced plays, and published an almanac of The Academy Awards titled "And the Winner Really Is."
Adjunct Instructor in Voice
Eva Kendrick is a voice instructor, composer, vocal coach, music director and vocalist. She is Adjunct Professor of Voice at Dean College, Chair of the Voice and Music Theory/Composition Departments at the Community Music Center of Boston, Director of the Eva Kendrick Voice Studio and Music Director at First Parish Medfield. Eva Kendrick
Kendrick's students of all ages are extremely active both in performances and in vocal competitions. Her students' Broadway credits include: Les Misérables (Gavroche), Matilda (Nigel/Eric), and Tuck Everlasting (Winnie Foster). Broadway national tours include White Christmas (Susan Waverly), Les Misérables (Gavroche) and the School of Rock promotional tour (Summer). Movies and TV shows include The Judge, Frozen Fever and The Tonight Show with John Oliver. Other recent professional performance engagements include the 70th Annual Tony Awards, New York Pops 33rd Birthday Gala, Broadway Kids at Carnegie Hall, Boston Opera House, Boston Pops, and the Pride event Love is Love for the Trevor Project featuring Broadway's youngest stars. Her students have received awards and honorable mentions in numerous singing competitions, including the National Association of Teachers of Singing (NATS) Student Auditions in Musical Theatre and Classical categories, the Richard Maltby Jr. Award for Musical Theatre Excellence given by the Kennedy Center American College Theatre Festival, the Classical Singer Vocal Competition, the Boston Lyric Opera Aria Contest for Teens and the Boston Pops Fidelity Futurestage Competition. In the past year alone, her students have received 38 awards in state, regional, national and international competitions. Her students regularly perform in professional and regional theatre companies, including North Shore Music Theatre, Wheelock Family Theatre, Ogunquit Playhouse, Barnstormers and many more. Several of her Dean College studentswere Regional Winners for the NATS National Student Auditions New England Region, and her Dean College student Sean Kaiser was a National Semi-Finalist this year at the NATS National Student Auditions competition in Chicago.
As a vocalist, Kendrick performs a variety of styles from classical to folk and jazz and has also won NATS awards. As a composer, she has written many works, including two operas and two full-length musicals. Her musical Operator received its premiere in 2015, supported by a grant from the Massachusetts Cultural Council, and her short opera The Break-Up, which also premiered in 2015, received an Honorable Mention from The American Prize. Her one-act opera Emily about the Amherst poet Emily Dickinson has been performed nearly a dozen times, and her choral works have been performed across the country. Recent chamber ensemble commissions and performances include the Anon Ensemble (Atlanta), Gateway Opera (St. Louis) and Verdant Vibes (Providence). Other awards Kendrick has received include the Subito Grant from the Los Angeles Chapter of the American Composers Forum, 17 ASCAPLU$ Awards, the Judith Lang Zaimont Prize from the International Alliance of Women in Music, and the Marilla McDill Award for Teaching Excellence. Upcoming projects include a new full-length dramatic work and a collaboration with the Longy School of Music and the Boston Opera Collaborative, which will premiere in the fall of 2016. 
Prof. Kendrick received a M.M. in Composition with Distinction from the Longy School of Music and a B.M. in Vocal Performance from Rhode Island College.
Tracy Lane is the Assistant to the Dean for the Palladino School of Dance and the School of the Arts. 
She received her BA in Theatre Education from Emerson College where she also trained in musical theatre, dance and voice. Tracy has been a teacher of English, musical theater, acting and dance as well as a performer, director, choreographer, costumer and producer.
Adjunct Instructor in Theatre
Sandra Myatt is an adjunct instructor at Dean College teaching the Tech Production Labs. She holds a Master's Degree in Engineering. She has worked as a Scenic Artist since 2004 at the Norwood Theatre and the Orpheum Theatre in Foxboro, painting sets and creating props for over 30 productions. Sandra designs sets, closely working with the production crew, and guides students at Dean in how to paint using a variety of faux finishing techniques to create patterns and textures for all scenic elements.  
Applied Music Coordinator, Adjunct Instructor in Dance
Mike Sartini is an adjunct instructor and percussion accompanist for tap and modern classes for School of Dance. He teaches percussion lessons and is the program coordinator for the Applied Music program. He also serves as the music contractor for musicals in the School of the Arts.
Success and Career Advisor
Courtney Shimer is the Success and Career Advisor for the School of the Arts. Courtney holds a Master's Degree in Elementary Education and a Bachelor's Degree in Interdisciplinary Liberal Studies from James Madison University. After spending the last decade working in the field of arts education and non-profit management, Courtney has gained a wide-range of experience in operations management, strategic planning, staff recruitment and training, program development, budget oversight, and event planning. 
Adjunct Instructor in Art
Tereza Swanda is an adjunct in Visual Art and Studio Art at Dean College. She has taught the creative process internationally gaining the understanding that EVERYONE has the ability to learn how to draw, paint and sculpt. She looks at the commonalities not only between all human beings but between humans and nature.
Adjunct Instructor in Theatre
Matthew Woods is a graduate of Hamilton College and the Harvard/ART Institute for Advanced Theatre Training. He has made his living as an independent theatre artist and educator in the Boston area for over two decades.  In 2007, Matthew founded imaginary beasts, a critically acclaimed theater ensemble specializing in movement based physical theater.