Dean College Celebrates Historic Installation Ceremony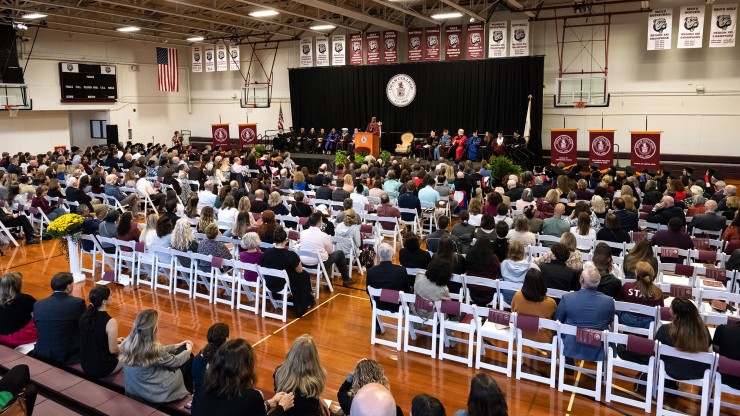 Dean College celebrated the inauguration of Edward M. Augustus, Jr. as the College's first-ever Chancellor and the investiture of Kenneth Elmore, J.D. as the College's 14th president with a series of events from October 13 to 16, 2022.
Chancellor Augustus and President Elmore were chosen to succeed Dr. Paula M. Rooney, who led Dean College from 1995 to 2022, in an innovative new approach to leadership. Chancellor Augustus, the former city manager of Worcester, and President Elmore, the former dean of students at Boston University, are collaboratively leading the College while also strategically focusing on areas pertaining to their respective roles, backgrounds and skill sets. The Installation Celebration formally conferred the authority of high office to Chancellor Augustus and President Elmore and commemorated the momentous occasion in the College's history.
The celebration began on Thursday, October 13 with an afternoon salon moderated by President Elmore on the topic of "Discovering and Re-Discovering Mesopotamia," featuring leaders in higher education to engage the community in meaningful dialogue.
Dr. Gregory Ellison II, associate professor of pastoral care and counseling at Emory University and founder of Fearless Dialogues, discussed his work in creating meaningful, shared experiences and heartfelt conversations. Ellison encouraged the audience to relate to other people "soul to soul, rather than role to role," and that when it comes to having hard conversations, that "if you ask the right questions, even the most resistant people will feel something moving in them."
Dr. Rob Lawson, professor of history at Dean and managing editor of the New England Journal of History, reflected on his book "Jim Crow's Counterculture: The Blues and Black Southerners, 1890-1945" and the idea of music as resistance and accommodation. Lawson explained that music can not only find a common ground between those who don't have similar life experiences, but it can also take on different meanings based on those life experiences. "Different people can listen to the same track and it has a different outcome," he said.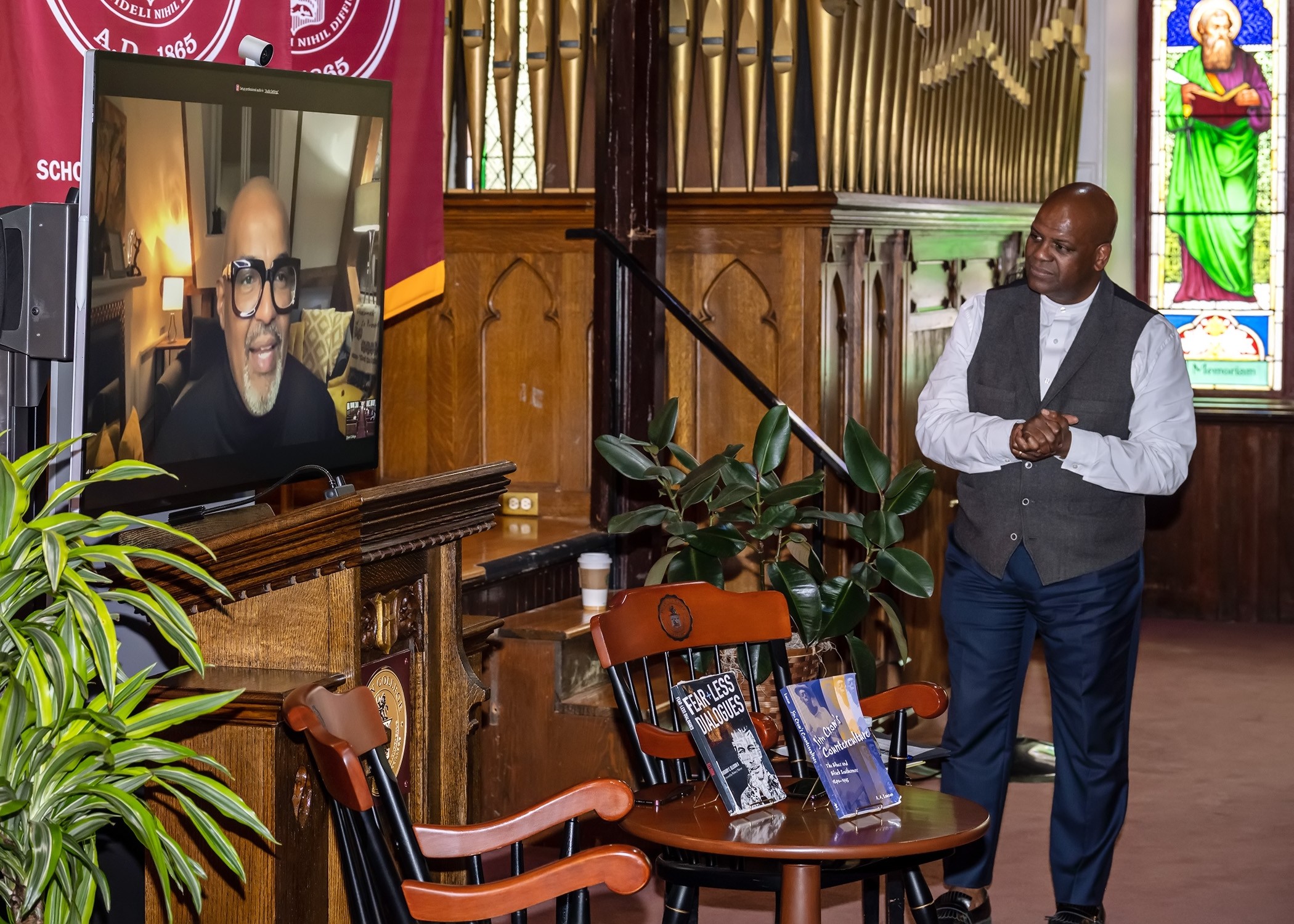 Dr. Keith Magee, chair and professor of practice of social justice at Newcastle University and senior fellow in culture and justice at University College London, spoke about the journey to end racism in our lifetime. He emphasized that an obstacle to change is often known as cathedral syndrome, or building towards something you won't see the completion of. "Rome wasn't built in a day," he remarked, "but every day a brick was laid to build Rome."
On Friday, October 14, the College held the Installation Ceremony of Chancellor Augustus and President Elmore. The ceremony included performances and readings by students, faculty and staff. Remarks were given by Mariah Sheirer '23, president of the Student Government Association; Jane Gagnon, director of logistics and campus engagement; and Tom Mercer, chair of the Franklin Town Council. The featured speaker was Dr. Anthony P. Monaco, president of Tufts University. Monaco traced the history of Dean College and the close ties Dean and Tufts share, as well as his confidence in Dean's future. "From Universalist beginnings that instilled a sense of moral good and social and personal responsibility to preparing today's generation to succeed and thrive in a blossoming multi-racial society, the journey from Dean Academy to Dean College has been truly impressive," he said.
Both Chancellor Augustus and President Elmore delivered remarks after their respective inauguration and investiture.
Augustus spoke about the holistic support Dean provides to each and every student, from the classroom to their extracurriculars to the everyday interactions, throughout the students' academic and personal journeys. He highlighted the parallels of Dean to the City of Worcester, where he was born, raised and served as the city manager. He emphasized the work and the transformation that happened in Worcester to help residents believe in both the city and themselves – just like the transformation that occurs at Dean. "Many students, when they arrive on campus, are just beginning to find themselves," Augustus explained. "Their parents, teachers and friends already see greatness in them. But our students must find that for themselves, and we are privileged and humbled to help them in that journey. Together, we will continue graduating the thinkers, doers and leaders that have long been cultivated on this campus."
Augustus also spoke about the challenges and issues society is facing today and the role that a liberal arts education plays in preparing students to make an impact on the world. "The world needs these students and their passions, dreams and confidence now more than ever," he said. "It is my hope that when Dean students set out to make lifelong relationships as alumni, that they will have learned not only how to make a difference, but they will also have learned how to be a difference."
In Elmore's investiture address, he acknowledged the people that influenced him and got him to where he is today, from his teachers to his family and ancestors to figures everything from higher education to literature to music. He echoed Augustus on the idea of Dean as a place for transformation and discovery, and called for the community to take up opportunities to show up in the world and bring about change.
Rather than share his vision for the College, Elmore instead shared what he wanted for each member of the community. "This is what I want for you, Bulldogs: I want you to live pluralistically," he said. "I want you to be able to live in places that are global, that are communities of and for teaching and mentoring. I want you to be in a place where you can go into the world with art and movement that changes the world. I want you to be in a place where art and live theatre moves our hearts to beat in unison. I want you to live in a place where you are discovering new ways to consider how we gather and how we talk to each other.
"Bulldogs, it's time for you to tell your stories. It's time for you to have something to say. I hope that you're never afraid to be bold, especially when it comes to social justice, and that you keep your strength up. I hope that you dare to believe in the possibility of a common good, a common ground and a higher ground. Believe in that."
Following the ceremony, the Dean College community was invited to a reception in the Dr. Paula M. Rooney Student Center to celebrate the next chapter in Dean's history.
The Installation Celebration also coincided with Dean's annual Homecoming Weekend for alumni and families. On Friday, women's volleyball played Saint Joseph's College of Maine in Pieri Gymnasium but came up short with a final score of 3-1. The celebrations continued on Saturday with the alumni lacrosse game, a favorite tradition of the weekend, as well as a historical tour of campus led by Dr. Rob Lawson. Over at Longley Athletic Complex, families and alumni enjoyed a game-day cookout and participated in fun activities for all ages at the Bulldog Fan Zone.
The Dean College football team took on Gallaudet University and, after leading for most of the game, ultimately fell 26-23. The Thomas "Butchie" Williams '75 Award for Most Valuable Player was presented to Mozes Mooney '24 for having the most impact on the game. Fans also enjoyed halftime performances by the Dean College dance performance teams.
Following the game, Chancellor Augustus and President Elmore held a celebration with the community on Awpie Way, featuring food, lawn games and more. The day's events also included a tree dedication in memory of Professor David Middleton, an open house at the Green Family Library Learning Commons and an alumni gathering at Teddy Gallagher's in downtown Franklin, before concluding with a performing arts showcase and trivia night in the Rooney Student Center.
To round out the weekend, both the field hockey and men's soccer teams celebrated senior day on Sunday, while the women's soccer team also competed. Field hockey took on Rivier University but fell 4-0, men's soccer played to a 0-0 draw with Fisher College and women's soccer took home a 3-1 win against Norwich University.
Thank you for celebrating this joyous and momentous occasion with us, Bulldogs! Learn more about the Installation Celebration and leadership at Dean.