Put your knowledge to the test. Apply concepts learned in class through real-world experiences.
The Center Experiential Learning
Among the most exciting aspects of The Center are our industry partnerships, which open doors to countless hands-on possibilities. Our students have found success in paid internships. But that's just the beginning, because where you go is up to you. Radio or TV reporter, marketing specialist, security supervisor, event planner, venue manager, athletic trainer - your career opportunities will be wide open.
What You'll Gain
The Center has provided experiences for our students in almost every aspect. Whether you want to grab a ride to a game and score free tickets, or if you want to learn and work with the industry experts we partner with, here is what you'll gain:
Experience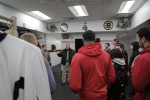 Take a behind the scenes tour of Gillette Stadium, the Amica Mutual Pavillion and more. Attend a New England Revolution game or a baseball game. Participate in a playground build with the New England Patriots. Enjoy job-shadowing opportunities, on-site classes and on-site practicums.
Access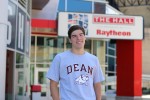 Our students have access to facilities, stadiums, special events, team practice and training. Our students have participated in an NFL on-field experience; toured The Hall at Patriot Place, the Press Box, Luxury suites, the Broadcast Booth and more; explored Helix Esports at Patriot Place, an esports gaming center and the official practice facility for the Boston Uprising; and gained access to strength, conditioning and nutrition programs.
Internships
Gain experience through an internship with Providence Bruins, New England Patriots, New England Revolution, Patriot Place, WEEI, etc. Both paid and academic credit internships available. View the table below to see where some of our students are interning this summer!
| Organization | Organization |
| --- | --- |
| Brockton Rox (Futures Baseball League) | Hyannis Harborhawks (CCBL) |
| Florence, SC RedWolves (Coastal Plain Baseball League) | Newport Gulls (NECBL) |
| WLPZ, Leominster | WOON, Woonsocket |
| Mass Pirates (Indoor Football League) | O'Fallon Hoots (Missouri, US Prospect League) |
| Speed 51.com (Stafford, CT Raceway) | Heritage Sports Radio Network in Delaware |
| Voice of America | Upper Valley Nighthawks |
Industry Speakers
Learn from industry leaders who visit campus. Past speakers include Tom Werner, Jonathan Kraft, Dr. Charles Steinberg, Larry Lucchino and others!
Watch this video presentation featuring our industry leaders discussing career opportunities for students interested in the sports and entertainment industry!
Player Interaction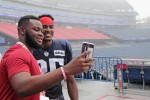 Now is your chance to interact with professional athletes at team practice! Our students have access to VIP events, game attendance and volunteer opportunities.
Experiential Learning
Take a behind-the-scenes look at how a large event is managed by taking part in the banner ceremony at the New England Patriots home opener. Our students have had the opportunity to participate in 2015, 2017 and 2019!