Dean College has partnered with some of the biggest entertainment organizations in the area.
Who You'll Work With
Dean College has exclusive academic partnerships with area teams, including the New England Patriots, New England Revolution and the Pawtucket Red Sox. We also work with organizations like the Providence Bruins, WEEI Sports Radio and more!
Kraft Sports + Entertainment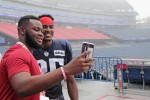 Kraft Sports + Entertainment is the ownership group that presides over the New England Patriots, New England Revolution and Patriot Place. Dean's partnership with Kraft Sports + Entertainment will allow students to gain access to a vast amount of opportunities in the sports and business world, including hands-on instruction from executives within Kraft Sports + Entertainment.
Check out our sponsorship signage, located on the game clock at Gillette Stadium:
Pawtucket Red Sox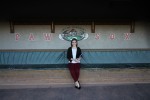 Our relationship with the Pawtucket Red Sox is a multi-year agreement that will allow students to have access to internships within the Pawtucket Red Sox organization. This will help students get acclimated to the workforce and gain the experience of working in the world of sports. Guest lecturers will include Pawsox owner Larry Lucchino as well as Team President Dr. Charles Steinberg. Said Dr. Steinberg, "We are eager to introduce the students of Dean College to the world of professional sports. The variety of educational backgrounds that constitute a front office team can sometimes surprise and often inspire students. It is healthy for students to see how much we value education."
WEEI Sports Radio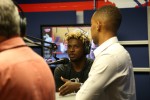 WEEI-FM is located in Brighton, MA and is one of the main sources for sports radio in the Greater Boston area. Students will be able to learn through our relationship with WEEI that the sports radio experience is quick, fast-paced and a lot of fun. Whether it is answering phones in the studio or getting hands-on with the production of a show, working with WEEI will help students gain confidence as they enter this field.
Providence Bruins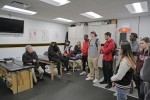 The Providence Bruins are the AHL affiliate of the Boston Bruins and play their home games at the Dunkin' Donuts Center in downtown Providence. This relationship that we have with the P-Bruins will help our students gain an interest in marketing and PR from a different perspective. Working with the P-Bruins will enhance the students' ability to deal with a lot of promotional activities and merchandise sales. The Providence Bruins are a great organization to work with and will help steer our students on the right path.