Packing for College
Knowing what to pack and what to leave at home is crucial. Space is limited in residence halls, so we've designed a checklist to aid you as you prepare for move-in day.
We are encouraging all students to have a duffel bag, suitcase, or large plastic tub pre-packed and ready to go in the event that they are asked to isolate or quarantine. If a student needs to leave their residence hall room to quarantine or isolate, having a bag of essentials already packed can make that move easier, faster, and less stressful. Learn more about packing your "COVID Go-Kit."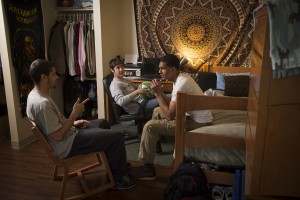 What Not to Bring
Dean College is committed to the well-being and safety of all our students. Therefore, certain health and safety regulations are in place for the protection of our residential population.
For this reason, the items listed below ARE NOT PERMITTED on the Dean College campus:
Indoor and outdoor grills
Bed risers
Electric frying pans
Extension cords
Fireworks
Halogen lamps
Lava lamps
Pets
Subwoofers
Toasters and toaster ovens
Weapons of any kind (including paintball and water guns)
Hot water heater*
Hoverboards
*Allowed if equipped with an automatic shutoff.