Technology Service Center
Providing technical assistance to students, faculty and staff
The Technology Service Center (TSC) is open for student assistance throughout the year. No appointments necessary. TSC is available to answer your technology questions and help you with:
Accessing the College WiFi
College email
Internal websites and applications: Today@Dean, Canvas, MyDC etc.
Computer malware
Use of College lab computers and printers
Residence hall cable television service
Laptops
All Dean College Students are required to arrive at the College with their own laptop computer. The make and model of the computer you choose is a matter of personal choice, provided that it meets the minimum hardware and software specifications. Only laptops with the following minimum specifications are supported on the Dean College network and by the Technology Service Center (TSC).
Minimum requirements for Windows laptop computer
Windows 10

22H2

802.11n compliant WiFi adapter (802.11ac fully supported)
NOTE: Dean WiFi and TSC do not support Windows XP
Minimum requirements for Macintosh computers
Mac OSX Sierra
802.11n compliant WiFi adapter (802.11ac fully supported)
NOTE: Dean WiFi and TSC do not support computers running OSX Lion 10.7.
Additional Recommended Accessories
USB Flash drive 2GB or greater
Multi-year service plan with laptop manufacturer
Surge protector
Kensington Laptop Lock
Personal Printers: The college provides a service which allows you to print to several campus printers from your personal device. These printers are black/white/greyscale and only 2 are available 24/7. If you choose to bring a printer, wireless printers are not permitted as they can interfere with College WiFi services. Your printer must be connected to your laptop through a USB (or other) cable.
Software
Dean provides students with a downloadable copy of Microsoft Office for Windows or Mac. The Microsoft Office 365 Suite of software is licensed, by Microsoft, for installation on 5 of your devices while enrolled in full-time education at Dean College
It is important for students' academic success to download the Microsoft Office suite of applications to their computer. ChromeBooks do not allow software to be downloaded. The Dean College Information Technology Department does not recommended and we do not support Chromebooks.
Campus Provided Cable TV
To access cable television in your residence hall room, your TV must have a Built-In-QAM tuner.
Check the Technical Specifications of your TV prior to your arrival on campus or contact TSC with model number ready.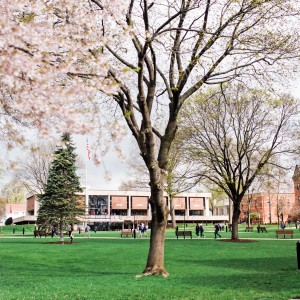 Technology Service Center
Address
A.W. Peirce Technology and Science Building, Room 107, 99 Main Street, Franklin, MA