Arts and Entertainment Management
Create a dynamic career with a major in arts and entertainment management from Dean College.
Combine your passion for the arts with a strong foundation in business skills. A bachelor's degree in arts and entertainment management from Dean College gives you the tools and experience to launch an exciting career in TV, film, music, producing, dance or theatre management, themed entertainment, event management and beyond.
Program Overview
Every successful venture in arts and entertainment relies on the skills and hard work of management professionals. A bachelor's degree in arts and entertainment management from Dean College prepares you to play an important role in this exciting field.
Combining creativity with industry savvy, our curriculum fosters your artistic vision while developing your business skills. In addition to studying accounting, economics, finance and marketing, you'll get a solid grounding in the liberal arts.
The program offers specializations in:
Dance
Media Studies
Theatre
You can also design your own individualized specialization.
The major is an excellent choice if you're interested in event planning, company management, media, dance and theatre management, theme park management, production management, entertainment operations, or promotions and (production) marketing.
You will also hear from leaders in the arts and entertainment industry through programs like "Storytime," a zoom series with a talk-show format that has included big names in the industry like Ken Davenport, a two-time Tony Award-winning Broadway and Off-Broadway theatre producer, blogger, and writer; Bob Pranga and Debi Staron, creators of Dr. Christmas, a Los Angeles based Christmas and special event design company that create unique holiday themed decorations for celebrity clientele, including Beyoncé, John Legend and Chrissy Teigen, Kevin Hart and many more; and Emma Walton Hamilton, a best-selling and award-winning author, editor, stage and television writer/producer, performer and arts educator.
Click on the below videos to learn more about the Arts and Entertainment Management Program.
Learn from the Best
Our dedicated School of the Arts faculty and staff offer our students the knowledge and skills to thrive both in and out of the classroom.
Beyond the Classroom
As an arts and entertainment management major at Dean, you'll have extensive opportunities to apply your skills and learn from working professionals. For example:
Participate in on-campus musical, dance and theatrical productions and workshops.
Complete a semester-long internship at an arts and entertainment venue such as The Providence Performing Arts Center, Trinity Repertory Company, New Repertory Theatre, The Orpheum Theatre, WGBH, Boston Ballet, Disney College Program, ABC TV in New York, The Kennedy Center, Patriot Place or Gillette Stadium.
Interact with professionals who visit campus to share industry experiences and offer networking advice.
Career Opportunities
Your bachelor's degree prepares you for careers in television, film, music, live performance, publishing, gaming, event and not-for-profit management, and beyond. Interested in event or venue management for sports teams, stadiums or other athletic programs? Learn more about careers in sports.
Our alumni find rewarding jobs across the arts and entertainment industry, including:
Business, talent and venue managers
Policy makers
Fundraisers
Event producers
Literary and booking agents
Theatre managers
Dance company and studio managers
Media station managers
Museum and gallery operations
Theme park producers and managers
Uniquely Dean
Discover the unique programming that the Dean College Arts and Entertainment Management program has to offer.
Join our Arts and Entertainment Management Club and get valuable industry insights. 
Go backstage at Walt Disney World and Universal Studios for our Theme Park Management course.
Apply your knowledge in a semester-long internship at an arts and entertainment venue.
Hear from industry professionals through our 'Storytime' series via zoom, a talk-show format featuring leaders in the arts and entertainment industry.
Dean College has been recognized as part of the 2021 PLEXUSS Global Rankings #6 Best in Massachusetts offering Theatre Arts Programs
Dean College was ranked #6 in Best Undergraduate Teaching in the 2021 U.S. News & World Report Best Regional Colleges, North category.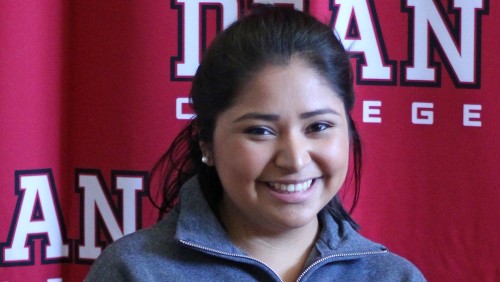 Degree Offerings
*The course listing below is based on the Bachelor's Degree program. 
Arts and Entertainment Management Courses
| Course Number | Course Title | Credits |
| --- | --- | --- |
| AMGT 111 | Introduction to Arts and Entertainment Management | 3 |
| AMGT 112 | Theatre, Dance, and Performing Arts Management | 3 |
| AMGT 203 | Venue and Facility Management | 3 |
| AMGT 210 | Presenting Performing Arts and Touring | 3 |
| AMGT 220 | The Business of the Biz | 1 |
| AMGT 305 | Principles and Foundations of Not-For-Profit Fundraising | 3 |
| AMGT 317 | Arts and Entertainment Law | 3 |
| AMGT 319 | Marketing for Arts/Entertainment and Live Events | 3 |
| AMGT 402 | Senior Project | 3 |
| AMGT 405 | Leading the Organization | 3 |
| AMGT 460 | Producing for Broadway and Regional Theatre | 3 |
| ACCT 103 | Financial Accounting | 3 |
| BUS 235 | Principles of Marketing | 3 |
| BUS 325 | Principles of Finance and Budgeting | 3 |
| BUS 337 | Organizational Behavior | 3 |
| THA 131 | Production and Design l: Stagecraft | 2 |
| THA 132 | Production and Design ll: Lighting | 2 |
| DCA 100 | Campus Connections: Making the Transition | 1 |
| DCA 110 | Career Connections: Developing Your Brand | 1 |
| DCA 200 | Internship Connections: Creating Your Plan | 1 |
| DCA 300 | The Internship Experience | 3 |
| DCA 350 | Future Connections: Launching Your Career | 3 |
| DCA EXPERIENCE ELE | Dean Career Advantage Experience Course | 3 |
| Course Number | Course Title | Credits |
| --- | --- | --- |
| ENG 111 | Composition l | 3 |
| ENG 112 | Composition ll | 3 |
| SPC 101 | Communication Fundamentals | 3 |
| MATH ELECTIVE | Core Mathematics Elective | 3 |
| LAB SCIENCE ELECTIVE | Core Lab Science Elective | 4 |
| ARTS ELECTIVE | Core Distribution Arts Elective | 3 |
| HUMANITIES ELECTIVE | Core Distribution Humanities Elective | 3 |
| NATURAL SCIENCES AND MATH ELECTIVE | Core Distribution Natural Sciences and Mathematics Elective | 3 |
| SOCIAL SCIENCES ELECTIVE | Core Distribution Social Sciences Elective | 3 |
| COM 327 | Applied Professional Communication | 3 |
| UDLA ELE | Upper-Division Liberal Arts Electives | 9 |
| Course Number | Course Title | Credits |
| --- | --- | --- |
| ELE | Electives | 22 |